Trailmix trifecta: delicious, healthy, and ethical
From the farm to our table, and from our table to the trail
3 Years. 52 Iterations. 900 Hours.
---
While shār snacks has really been a lifetime in the making, in 2013, it was catalyzed from a deep desire to create a good-for-you snack that was also good for the planet. Of course, it wouldn't matter how good it was for everyone if it didn't also taste fantastic.

To ensure amazing flavor that also met high standards for nutrition and ethical business, four years were spent tracking down the best possible ingredients and perfecting the recipe. Using a 32-year-old wooden bowl on a kitchen counter in the heart of Austin, Texas, the process of mixing, weighing, and tasting various combinations led to the ideal calibration of taste, texture, and nourishment.

The result of our labor of love: a snack so impossibly good, you'll want to shār.
Free-spirited snacking sourced responsibly
---
Our impossibly good trail mix is 100% organic, plant-based, paleo-friendly, non-GMO, gluten-free, and preservative-free. None of which would be possible without the partnership of family farms and growers who share our commitment to the planet (and ridiculously tasty snacks). Like us, they specialize in small-batch production and are committed to ethical practices in their work. It's a match made in trail mix heaven.
SEE OUR APPROACH TO SNACKING
In the Mix: 9 Incredible Ingredients
These small-batch nutritional superstars bring big flavor to our snacks. Get to know our ingredients, their health benefits, and more about the people bringing them responsibly into the world.
Almonds
Big Tree Organics
Turlock, CAFrom sunny groves in the heart of California's central valley come our crunchy whole almonds, certified organic and kosher by growers who put sustainability and environmental stewardship at the heart of what they do. Almonds were a shoo-in for our mix because of their impressive health benefits related to blood pressure and cholesterol, among many others. We just had to find the right partner, and, in Big Tree Organics, we got what we were looking for.
Pecans
Rio Grande Organics
Guemado Valley, TXOur pecans hail from Texas (like us!), where they thrive in the long, hot summers. We always use current harvest and clean dry-roast our product, resulting in fresher and more nutrient-dense nuts than the norm. Once a delicacy, these buttery whole nuts (fun fact: they're technically fruit) are bursting with flavor and rich in naturally occurring fiber, manganese, magnesium, zinc, iron, b vitamins, protein, and those all-important fatty acids.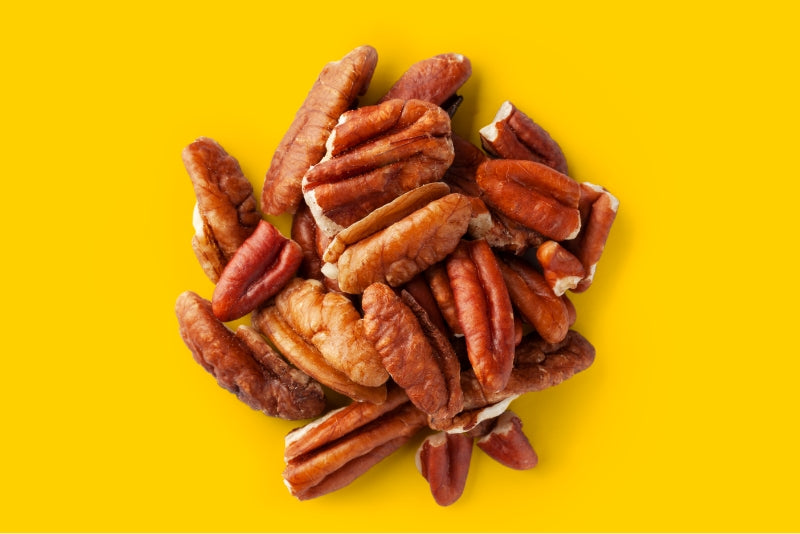 Dongnai, VietnamWhat we love about our cashews is they're just as nature intended, clean dry-roasted with no additives of any kind. These nuts from a trusted supplier on a small organic farm in the lush, tropical climate of Vietnam who's been growing and harvesting cashews for 25 years. Naturally rich in protein, fiber, and minerals such as copper, magnesium, vitamin B6, and selenium, it's no surprise these cashews are among the most popular tree nuts in the world.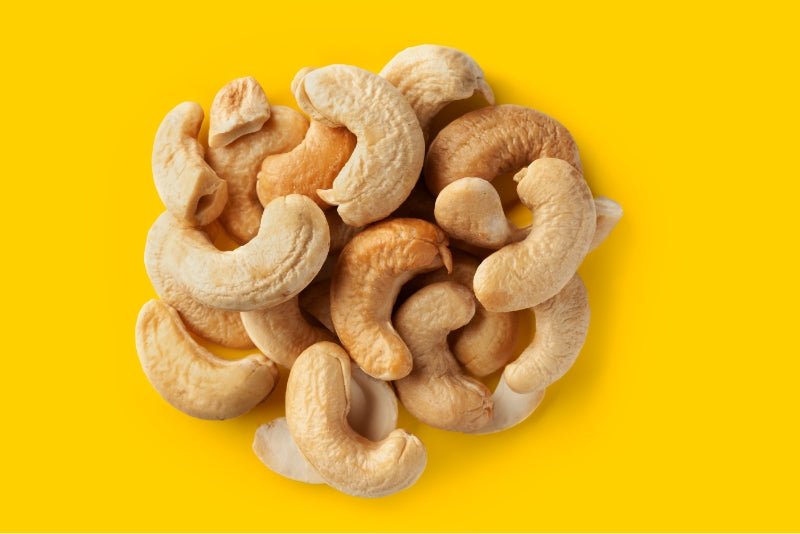 Pistachios
Santa Barbara Pistachios
Santa Barbara, CAWe struck (green) gold when we found this family farm growing and harvesting pistachios in Santa Barbara. Pistachios (another fun fact: they're technically seeds, not nuts) are packed full of protein, fiber, vitamin K, thiamin, vitamin B6, iron, magnesium, phosphorous, potassium, copper, manganese, and selenium. Plus, they taste great!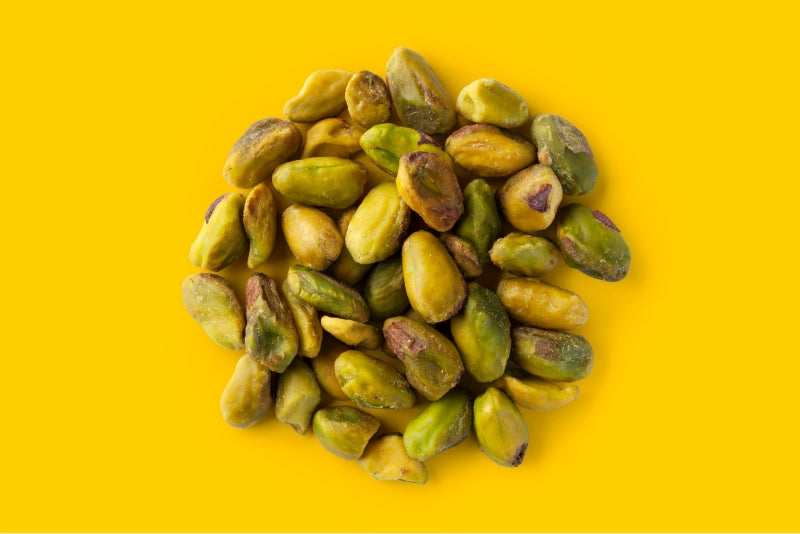 Wild blueberries
Royal Ridge Fruit
Royal City, WAThe soil in the Columbia basin produces arguably the best wild blueberries, and we're lucky to work with berry royalty. Certified organic, harvested at their absolute peak then naturally air-dried, our whole blueberries are low in calories and high in nutrients. Long hailed a superfood, they're bursting with antioxidants and flavor that perfectly complements the rest of our ingredients.
Montmorency cherries
Royal Ridge Fruit
Royal City, WAMuch like our wild blueberries, we source cherries from a third-generation organic farm where conditions are ideal for growing these famously tart fruits. A long way from their origin in ancient Greece and Persia, juicy montmorencies can now be found in the US, and we're lucky enough to reap their antioxidant and heart, health, brain, and sleep benefits... in addition to their bold flavor.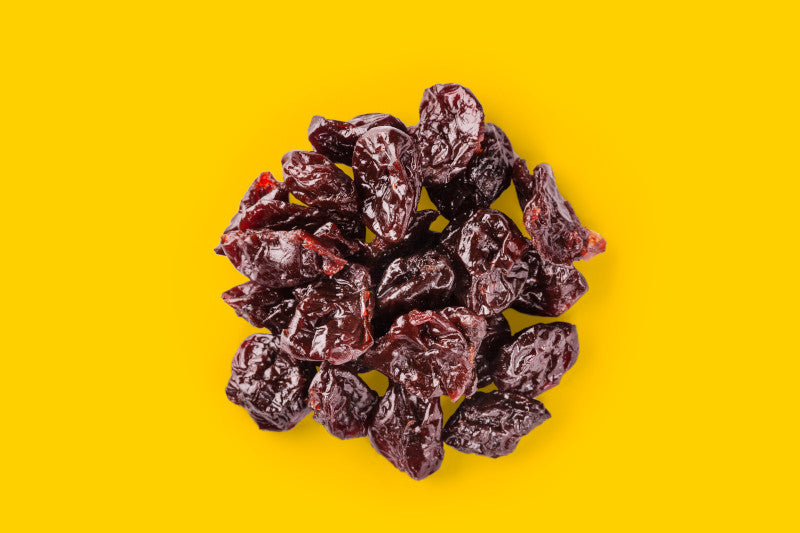 Whole cranberries
Cape Farm Supply
Cape Cod, MALeo, our cranberry guy, is the powerhouse behind the antioxidant goodies rounding out our dried fruit ingredients. Cape Cod, is the heart of cranberry country with ideal conditions for harvesting the delightful fruit. Well-known for their vitamin C, our whole berries are packed with serious fiber and minerals too.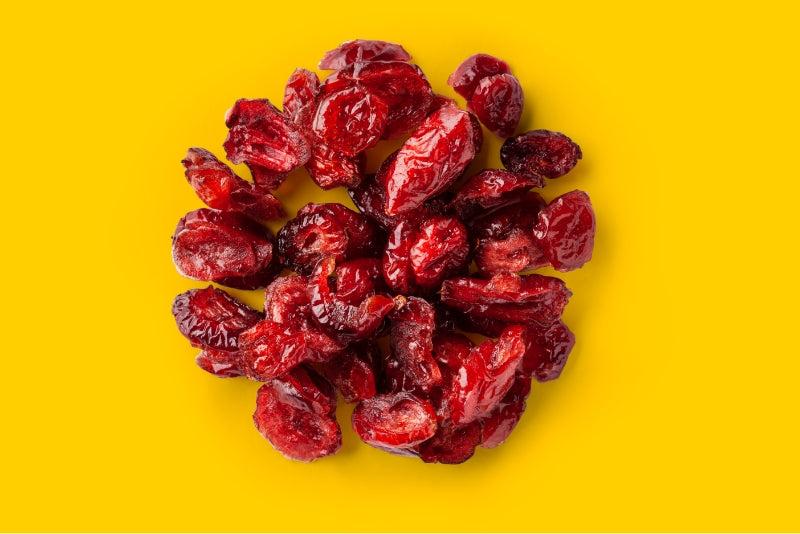 Dark chocolate chips
Guittard Chocolate
San Francisco, CAArtisan chocolate in trail mix? For shār snacks, absolutely. We source these morsels of chocolatey superfood goodness — 55% cocoa — from our fifth-generation chocolatier in San Francisco. The Guittard family has been making choclate since 1868, and their small-batch, fair trade-certified dark chocolate is dairy-free, chock-full of antioxidants and, yes, it's true, minerals.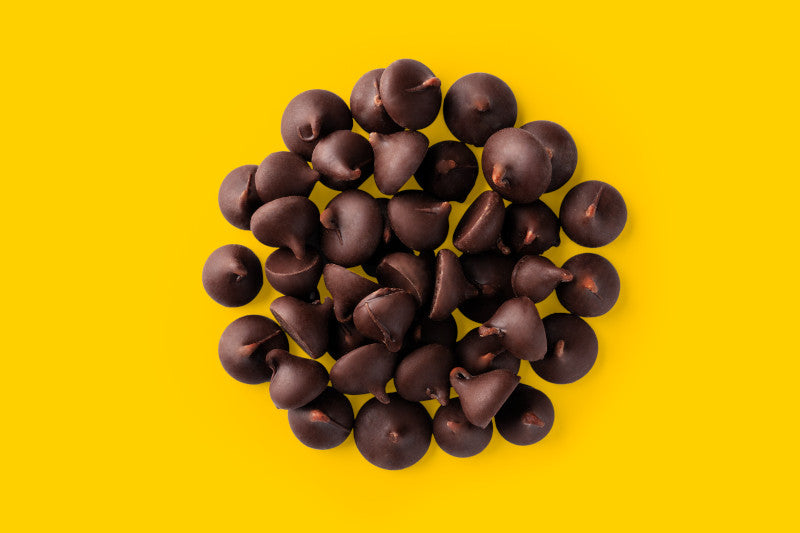 Coconut flakes
Katana Farms
Katana, Sri LankaFor this ingredient, we had to cast our net a little wider than the United States. Straight from the coconut groves at an organic farm in Sri Lanka, our dried flakes of aromatic coconut boast pitch-perfect in texture and taste. Always unsweetened, the addition of coconut brings all together the fruit, nuts, and chocolate in a combination that is so impossibly good, you'll want to shār.
Can't get enough? Support ethical consumption with subscribe & save.
Get shār delivered straight to your door, monthly. Simply choose your product, and save 20% on your first shipment, then 10% every month.
Cancel anytime — though we don't think you'll want to.
Feeling hungry? Shop our mixes and choose how you want to shār.